Jared Zenni was a key player for Team Charlotte during the Gladiator Polo™ series at the Tryon International Equestrian Center (TIEC). Despite Zenni's best efforts, Team Charlotte lost to Team Greenville  and Team Asheville in the semi-final rounds of the Gladiator Polo™ Championships.
We caught up with Zenni to see what he thought about the series in Tryon, where he is now, and what he is most excited about with the future of Gladiator Polo™! Stay tuned for more details as Gladiator Polo™ returns to Florida this winter!
Jared Zenni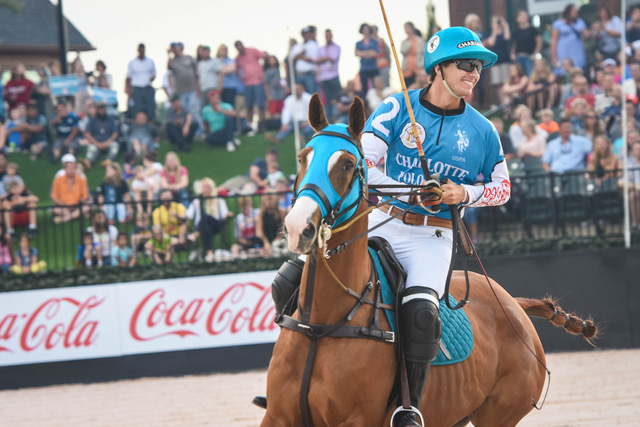 How do you think your team performed during the Gladiator Polo™ Series?
We worked very well together at times, but not well at other times. When we clicked we could have beaten anyone, we just needed to stay more consistent as a team.
How do you think you played personally? 
I have played in the arena once or twice before, but I am still trying to get the hang of it. I definitely would like to play more to keep gaining experience.
What was your favorite moment at TIEC?
My favorite moment was eating dinner before the game in Legends Club. It was really cool to eat with my teammates and the other team. I also really enjoyed signing autographs before the game started and meeting some of our fans. All of that stuff was really fun!
What are you looking forward to most about Gladiator Polo™ coming to Wellington, FL?
I am looking forward to playing better as a team, and having more time in the arena. It was really fun in Tryon, so I'm excited to have the opportunity to keep at it.
If you could put together a "Dream Team" for Gladiator Polo™, who would you pick?
Geronimo Obregon, because we are pretty good friends and haven't had the opportunity to play together yet. I would also like to play with Pelon Escapite because he has a lot of experience in the arena.
What do you see for the future with Gladiator Polo™?
I definitely want Gladiator Polo™ to keep growing, and hopefully it can get on TV, because I think that would be great promotion for it. Tryon is a great place for polo because it's a fantastic venue. But I definitely would like to see it grow even more than that to other venues.
When are you returning to Wellington, FL for the season?
I'll be back there next week! We are finishing up here in Argentina and then I'll start preparing for the outdoor polo season in December in Wellington.