For Immediate Release
Wellington, FL – March 16, 2019 – The first matches of the 2019 Gladiator Polo™ season kicked off in the U.S. Polo Assn. Coliseum at International Polo Club Palm Beach (IPC) yesterday evening, as the double-header saw Team New York face off with Team Los Angeles, followed by the later contest between Team Palm Beach and Team Dublin. Team New York prevailed over Team Los Angeles to a score of 15-14, while Team Palm Beach outscored Team Dublin 12-8 in the six chukker matches. Gladiator Polo™ will return to the U.S. Polo Assn. Coliseum on Friday, March 29, pitting Team Los Angeles (0-1) against Team Palm Beach (1-0) at 8:00 p.m.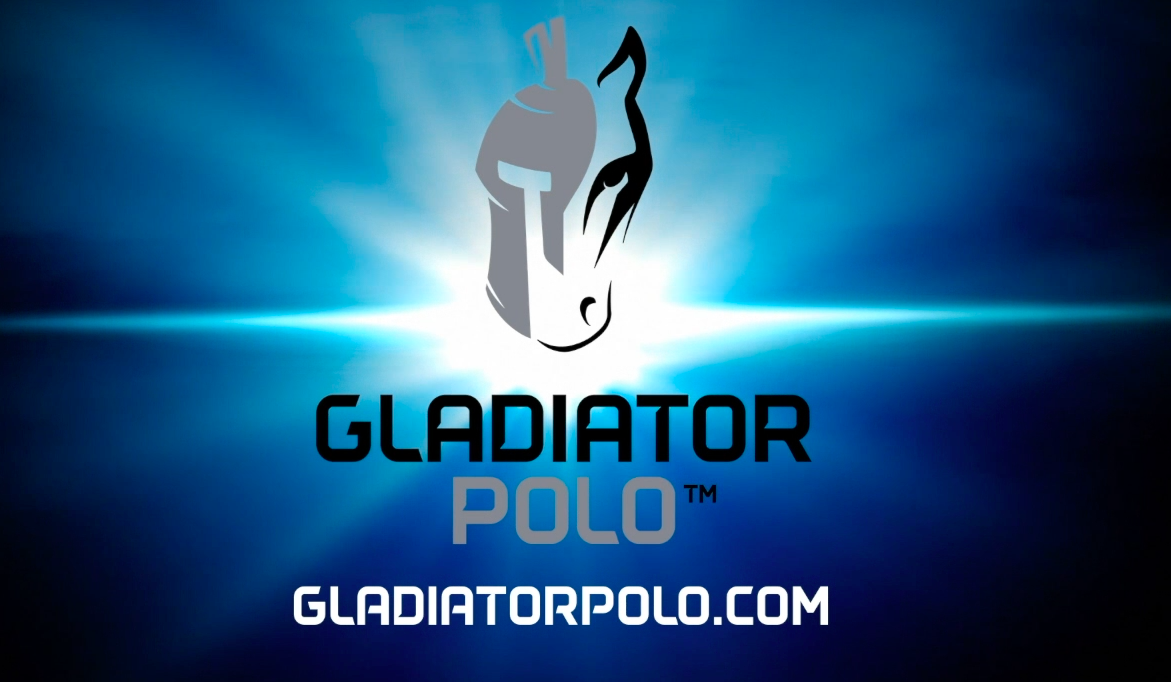 Team New York (1-0), a heavy favorite in the four-week series, saw outstanding play from Pelon Escapite, Mike Azzarro, and alternate Jesse Bray, who was substituted in at game time due third round draft pick, Jason Crowder, sustained an injury that will keep him sidelined for the remainder of the season. The fast-paced and aggressive style of Escapite and Azzaro helped to lift Team New York to their first victory of the season in an evenly played match, which saw only a single goal differential as time expired in the final chukker.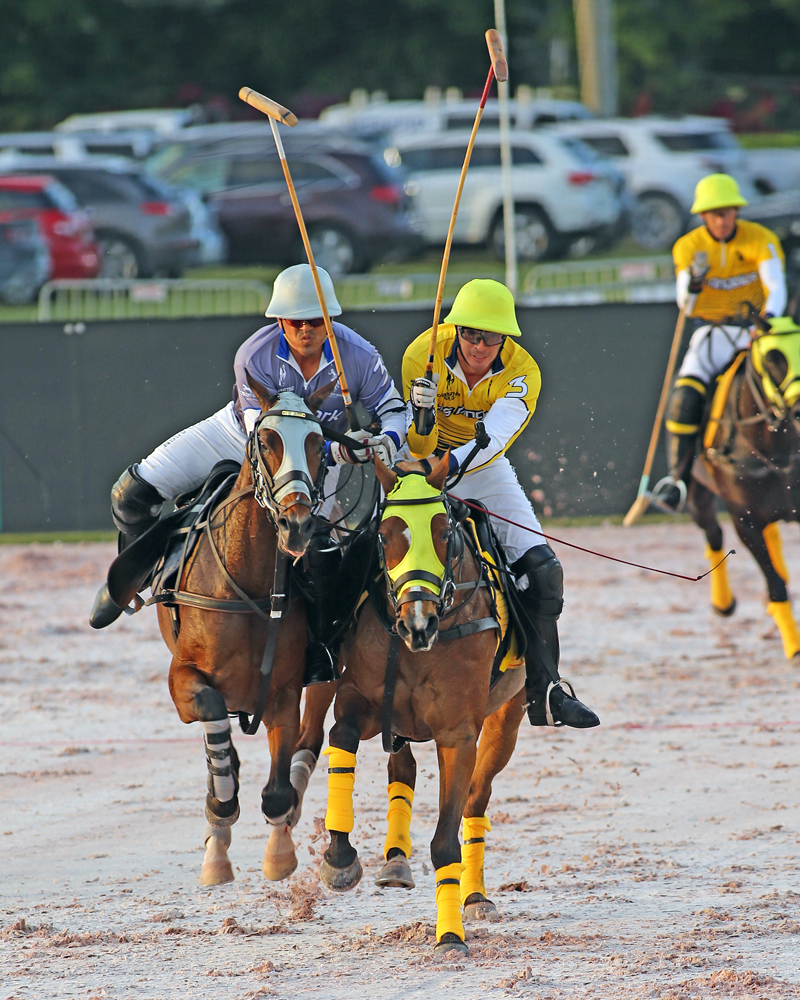 "I scored the penalty shot in the sixth chukker, which made a big difference in the game. They had missed two of their penalties and they're very good players on that team. We're all getting familiar with each other and I think it was a great start to the season and there will be some very exciting matches to come in the coming weeks," said Escapite.
Team Los Angeles (0-1) saw solid play from players Tomas Garbarini, Gringo Colombres, as well as Santi Toccalino, who earned the match's MVP honors. Garbarini totaled two goals on the day, one registering as a two-point score, with the shot coming cleanly from beyond the 25-yard line. Colombres scored four two-point goals to help lift Team Los Angeles within reach of Team New York. Toccalino added two goals to his stat sheet, also converting a two-point scoring opportunity.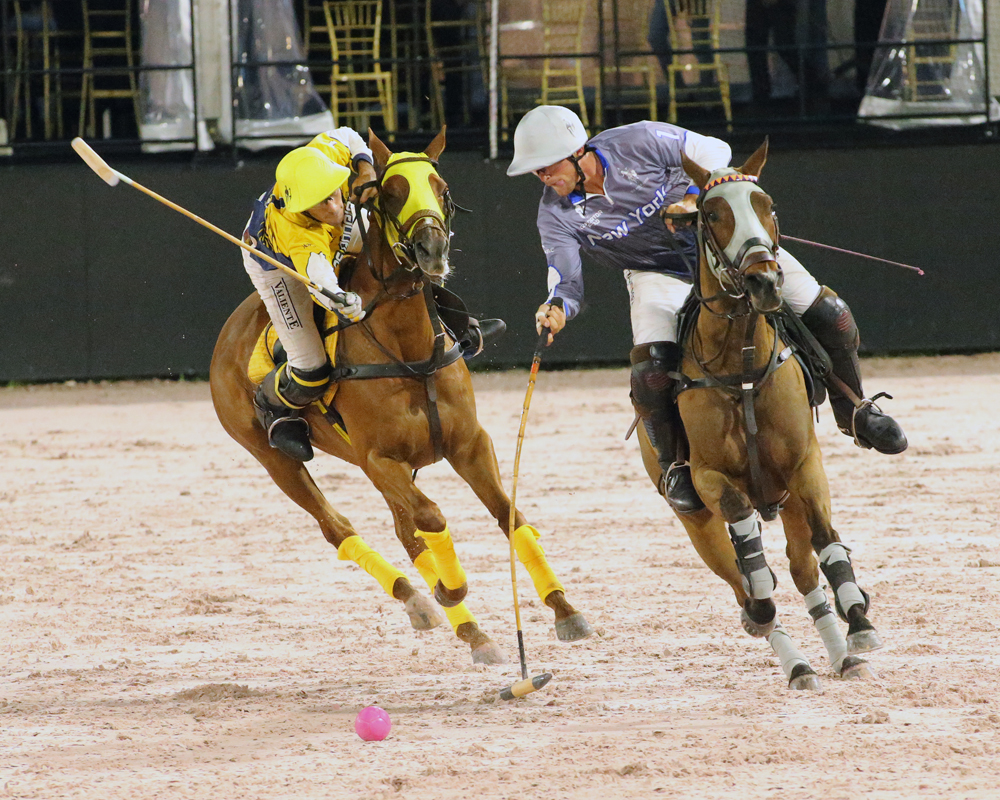 Commenting on the buildout of the U.S. Polo Assn. Coliseum at IPC, which is the new and long-term home for the sport at IPC, Escapite elaborated, "This is the first big arena for Gladiator here in Florida, which is really exciting and it played amazing. The players can be physical in this arena and it's better than ever. It's going to be a great venue for us this season."
Escapite finished the evening with seven goals for a total eight points after converting the only two-point penalty of the match. His teammate Mike Azzaro netted three goals, while Bray added an additional four to hoist Team New York to the top of the four-team standings, tied with Team Palm Beach at one win a piece.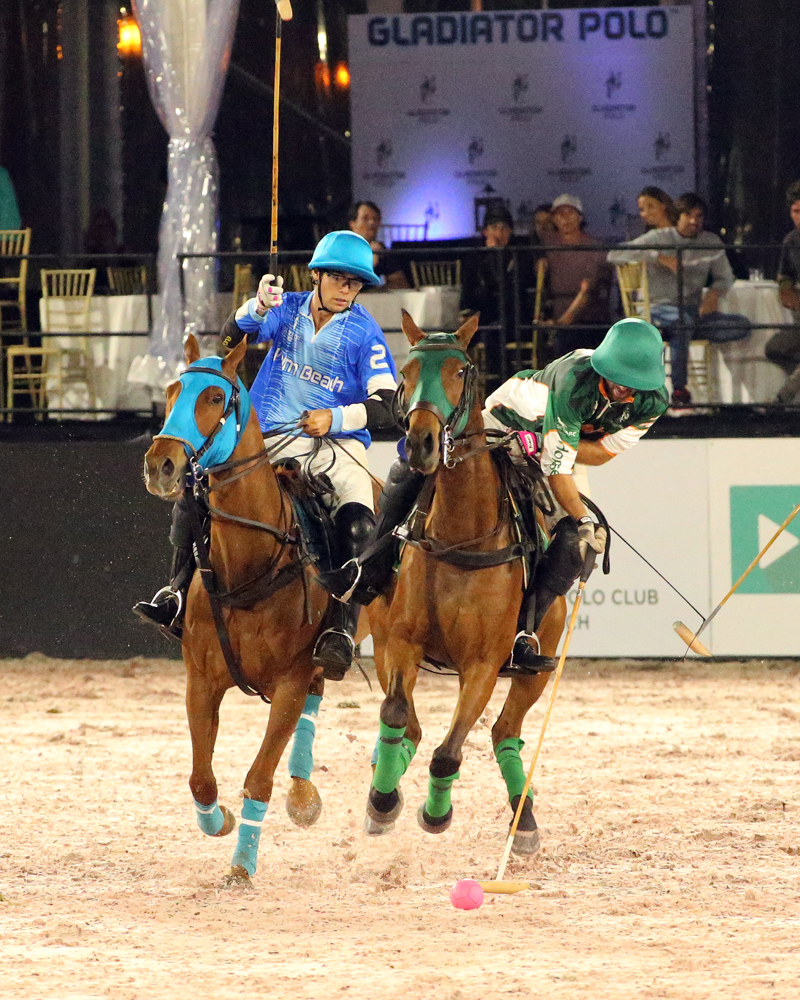 "The environment of the draft was awesome. It was really a cool concept to bring into the sport. I'm very glad to be a part of this and am lucky to have been able to win tonight," he concluded.
The second game of the night saw Team Dublin (0-1) take on Team Palm Beach (1-0) in the second six chukker match of the evening, with Team Palm Beach rising to the occasion and securing the win on a final score of 12-8. Team Palm Beach drew the first overall draft pick of the season during the inaugural Gladiator Polo™ draft and selected the prolific player, Tommy Biddle, to lead their efforts during the season. Biddle scored two goals in the team's debut game. Geronimo Obregon and Toro Ruiz supported Team Palm Beach's strong showing, with Obregon recording three goals on the evening and Ruiz netting four.
"It was a pleasure playing with them and it really felt great with these guys tonight. The plan was for them to really work in the back and then I either cut off the back end or pick up the trash plays in front of the goal. They made the goals and they played great," said Team Palm Beach's Tommy Biddle. "It's always our strategy that not everyone needs to go in offensively and that someone needs to stay back and that worked well for us tonight."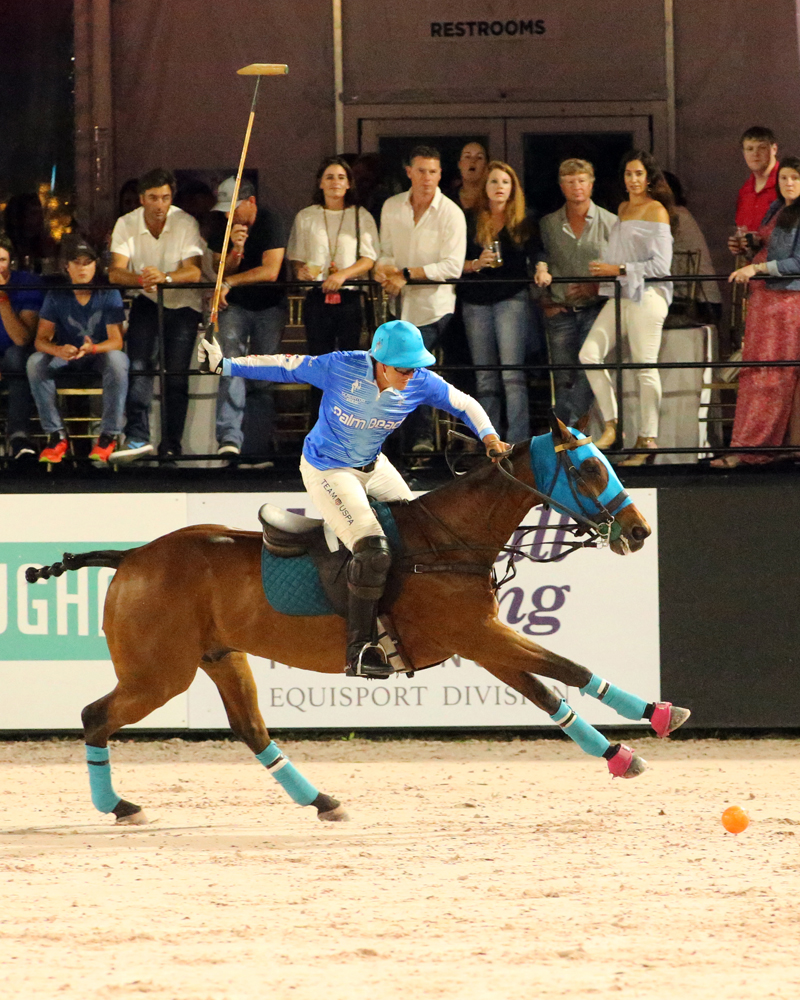 As the first pick in the highly anticipated Gladiator Polo™ draft, Biddle felt a sense of pride, but also added weight on his need to perform well in the first game of the season for Team Palm Beach.
"I felt some pressure tonight going in to tonight. It was a tough thing to be picked first and being rated ten goals in the arena, I know that everyone is looking at that," he explained. "Maybe it's not all flash, but I wanted to be steady in setting up plays, but I was just happy the horses played well and we've put together a really good team."
The game was closely paced through its entirety, as Team Palm Beach took an early lead in the first chukker and started the second chukker up 3-1. At half time, the game was tied at 6-6 before Team Palm Beach pulled away in the fifth chukker to make it 11-8 and sealed their victory with the only goal of the final period to end on a final score of 12-8. Toro Ruiz secured MVP honors for the match for Team Palm Beach.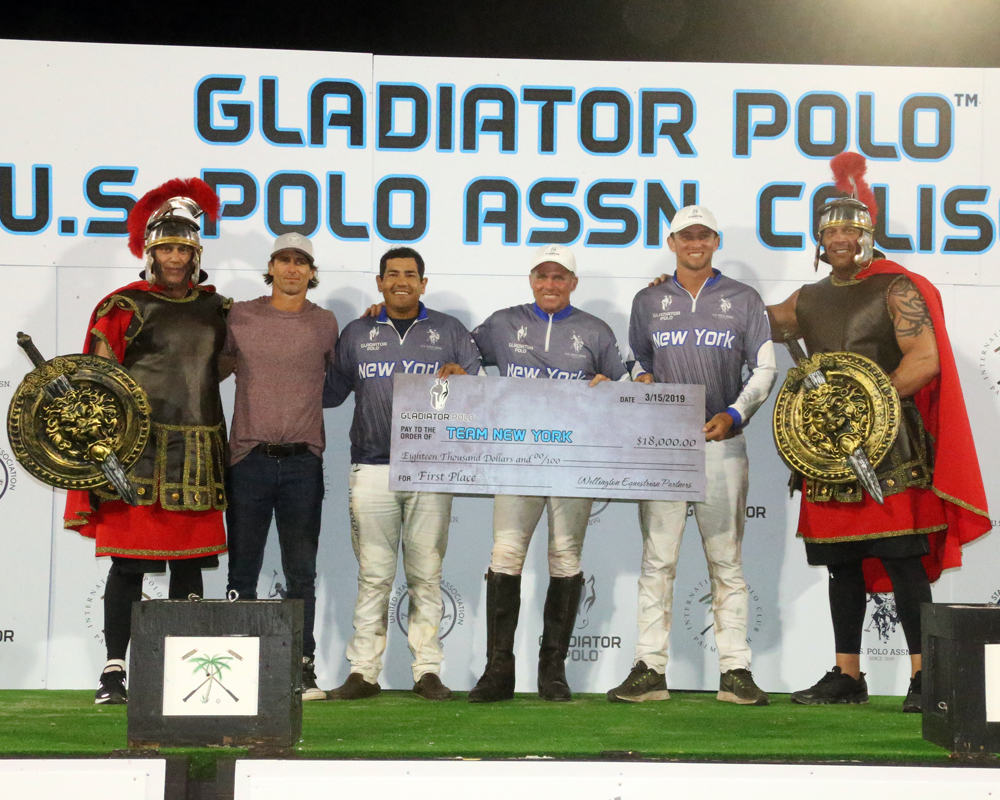 "Hopefully we keep getting better and I can play better so we keep it up. It was really fun and we have a great team dynamic," said Biddle.
Team Dublin represented by Gallego Ferrario, Tito Ruiz, and Nino Obregon came out strong and set the intense tone for the match. Ferrario capitalized in the first chukker with a single goal, while Obregon supported with four goals and a converted penalty.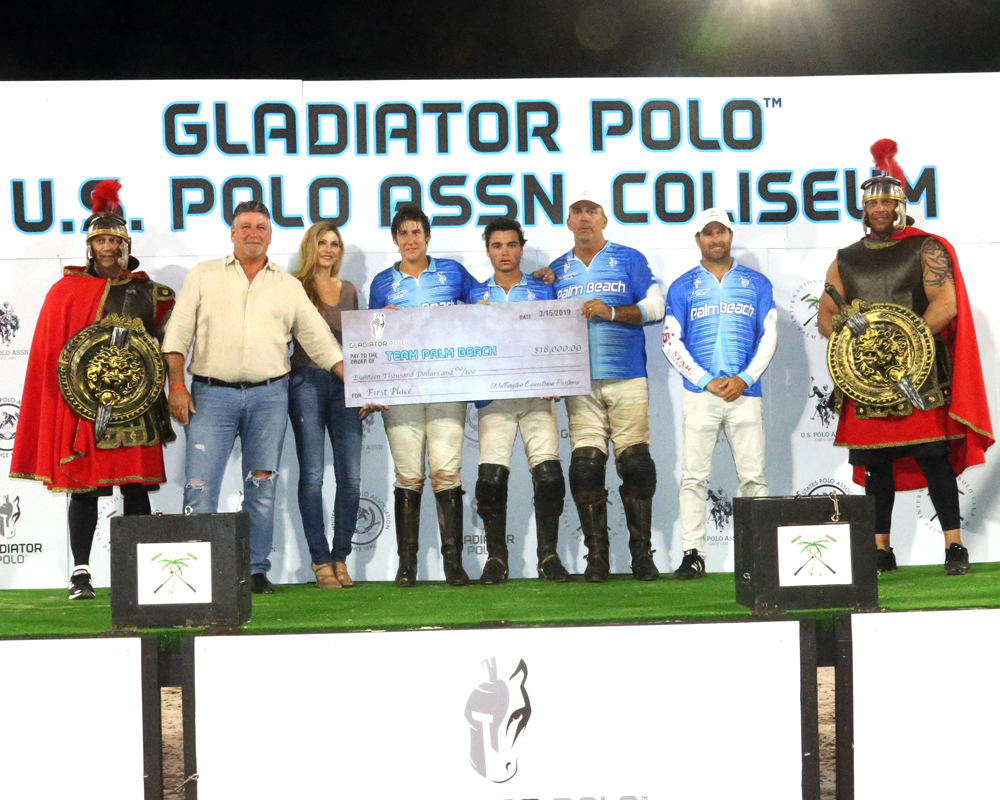 Gladiator Polo™ will continue into April with games scheduled on Friday, March 29 featuring Team Palm Beach vs Team Los Angeles, Saturday, April 6 with a match between Team Dublin vs Team New York, and conclude with the Gladiator Polo™ Championship on Saturday, April 13 at 8:00 p.m. All games will begin at 8:00 p.m. with gates opening at 7:00 p.m. General admission and parking are FREE.
To view the full Gladiator Polo™ 2019 schedule,
click here!
Photo Credit ©AlexPacheco. These photos may only be used once in relation to this press release with credit.