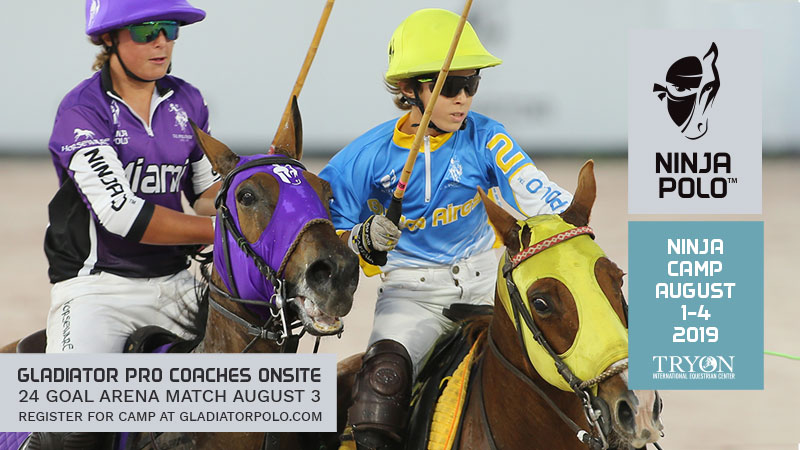 WELCOME TO THE TIEC NINJA POLO™ SUMMER CAMP 2019!

Proudly Supported by Polo Training Foundation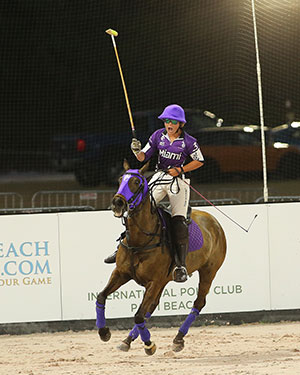 The Tryon Resort is the ultimate international destination for all who love horses, outdoor living and an active lifestyle. It is home to Tryon International Equestrian Center and the 2018 FEI World Equestrian Games™. Tryon Resort is one of the world's ultimate equestrian lifestyle destinations.
The Resort offers first-class facilities for all FEI disciplines as well as hunter/jumper, equitation, steeplechase, reining and multidiscipline events.
The mission of the Tryon Resort is to celebrate the magic of the horse, grow equestrian sport, and increase access to this beloved animal. In addition to being a haven for equestrian athletes and horse lovers alike, Tryon Resort is also a year-round getaway for connoisseurs of diverse cuisine, shopping, lodging, and family entertainment.
This year, Tryon International Equestrian Center are excited to announce their first Ninja Polo Summer Camp.
CAMP DATES 2019
1st – 4th August 2019
Kids aged 11-18 are welcome to join the Camp. All categories catered for,
from basic riding through to polo level.
Participant Categories:
Beginner level:
Must be able to walk, trot, and canter consistently –
no polo experience required.
Intermediate:
Must have polo experience (not limited to competition
or for those who have not competed within the prior twelve months)
Advanced:
Must be actively competing in polo
(Interscholastic, club level, youth polo within prior twelve months)
All participants will get a profound insight in polo and horse riding, guided by top professionals
who will be competing in Gladiator Polo August 3rd.

• Daily polo & natural riding classes with different groups for beginners to experienced riders, guided by high goal professional players who will be competing in Gladiator Polo on August 3rd.
• The Ninja Polo Summer Camp will prepare you to participate in polo by helping with your match strategy through instructional chukkers and team building games.
• Lots of fun and activities! Enjoy horsemanship activities, a night trail, plus other activities at the golf course, gun club and lake.
LOCATION:
Nestled in the foothills of Mill Spring in Western North Carolina and bookended to the west by the majestic Blue Ridge Mountains. Located within an hour of Charlotte, Asheville, and Greenville; Tryon Resort is the perfect getaway for families while providing outdoor activities for everyone to enjoy.
SOME UPFRONT INFORMATION:
• The camp is open for boys and girls aged from 11 to 18 years old.
• Only a limited number of spots available in the Camp!
• ALL STUDENTS MUST BE USPA MEMBERS
If you are not already a USPA member, you can sign up for the first year free at uspolo.org!
USPA membership includes insurance, which is required for all camp participants.
• Duration: 4 days/3 nights. The camp starts on Thursday 1st August at 5pm
and ends on Sunday 4th August at 12pm.
Have questions about which level to choose or how to become a USPA member?
Email Gates at jgridley@equestriansport.com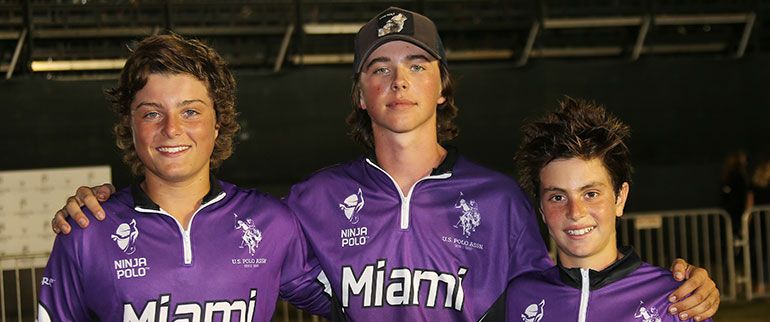 Learn from some of the world's best polo players and get hands-on experience with Saturday's Gladiator Polo™ competitors! Ninja Polo Camp at TIEC features instruction from professional high goal arena players for an experience you won't find anywhere else. Coaching staffing is headed by Gates Gridley, United States Certified Polo Instructor and lead instructor at the Polo School at IPC. Full list of instructors to be announced shortly.
School Horse Package:
$2,000/rider. Includes use of school horse and tack, water, snacks, daily lunch buffet, camp shirts, VIP ticket to Gladiator Polo™ match on August 3, prizes and trophies.

Personal Horse Package:
$1,500/rider. For riders bringing their own horse. Includes water, snacks, lunch buffet, camp shirts, VIP ticket to Gladiator Polo™ match on August 3, prizes and trophies.
PAYMENT is due at time of registration.
Please note:
Personal health insurance (valid for United States) and membership for the USPA is mandatory
(free for the first year, the membership includes Accident Insurance).
WHAT SHALL I TAKE WITH ME?
For riding, please bring your riding boots,
if you don´t have boots bring trainers. If you
have your own helmet and your own mallets
you are welcome to bring those also.
All other riding equipment will be provided
by the academy.

HOW CAN I JOIN?
To join simply fill in the application form found on the Register for Ninja Polo camp link below. You will receive a confirmation email from TIEC. Once you have the confirmation, you can submit payment via credit card. Once payment has been made, your place will be reserved.
ONSITE LODGING IS AVAILABLE HERE!
Choose from RV spaces with full hookups, a room in our onsite motel, or a one, three, or five-bedroom log cabin onsite. Participants staying onsite are required to have an accompanying adult over 18 years of age.
Click here to view onsite lodging options.